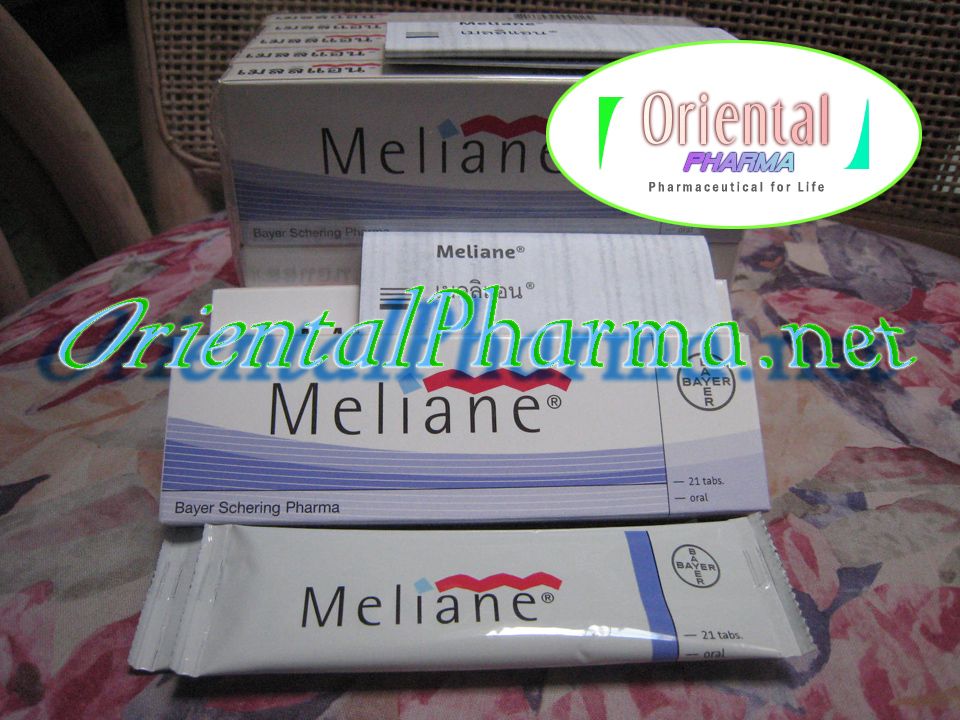 Buy 10 Months Supply of Meliane ® 21 Tablets

Package: 10 Boxes/Pack
Chemical Content: Gestodene 0.075mg, Ethinyl 0.02mg
Manufacturer: Bayer-Schering
Price: $70 - Best Offer!




Product Code: CONT003

Indications:
Contraceptive pills. Use only under supervision of medical practitioner.
Leaflet Information:

The format of this leaflet was determined by the Ministry of Health and itscontent was checked and approved by it in April 2010.
Prescribing Information
1. NAME OF THE MEDICINAL PRODUCT
Meliane
0.02 mg / 0.075 mg
Coated tablets
2. QUALITATIVE AND QUANTITATIVE
Composition
21 hormone-containing white coated tablets:
Each tablet contains
0.02 mg ethinylestradiol,
0.075 mg gestodene
Excipient: lactose 37.155 mg
For a full list of excipients, see 'Pharmaceutical Particulars'
3. PHARMACEUTICAL FORM
Coated tablet
The tablet is white, round with convex faces.
4. CLINICAL PARTICULARS
4.1 Indication(s)
Oral contraception.
4.2 Dosage and method of administration
Method of administration
Oral use
Dosage regimen
How to take Meliane
Combined oral contraceptives, when taken correctly, have a failure rate of approximately 1% per year. The failure rate may increase when pills are missed or taken incorrectly.
Tablets must be taken in the order directed on the package every day at about the same time with some liquid as needed. One tablet is to be taken daily for 21 consecutive days. Each subsequent pack is started after a 7-day tablet-free interval, during which time a withdrawal bleed usually occurs. This usually starts on day 2-3 after the last coated tablet and may not have finished before the next pack is started.
How to start Meliane
No preceding hormonal contraceptive use (in the past month)
Tablet-taking has to start on day 1 of the woman's natural cycle (i.e. the first day of her menstrual bleeding). Starting on days 2-5 is allowed, but during the first cycle a barrier method is recommended in addition for the first 7 days of tablet-taking.
Changing from a combined hormonal contracep tive (combined oral contraceptive /COC), vaginal ring, or transdermal patch
The woman should start with Meliane preferably on the day after the last hormone-containing tablet of her previous COC, but at the latest on the day following the usual tablet-free or hormone-free tablet interval of her previous COC. In case a vaginal ring or transdermal patch has been used, the woman should start using Meliane preferably on the day of removal, but at the latest when the next application would have been due.